FREE! Step By Step System - Sell Your House Fast, For Top Dollar - No Agent!
If we don't buy your house, this book will show you how to sell it for EXACTLY what you want AND avoid paying commissions.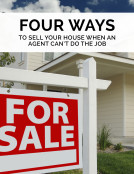 Get A Fair Offer On Your Home and Your FREE eBook
Get a fair offer and our proven system "4 Ways To Sell Your House When An Agent Can't Do The Job"
We Are A Real Estate Investing Company
Our company buys, sells, and rents homes. We are focused on improving neighborhoods and redeveloping areas that we work in. We pay "cash" and purchase in "as is" conditions properties from home owners that want relief from unwanted real estate. If you are considering selling your home fast, have an expired listing, a property that is outdated, in need of repairs or have property that you don't want or that is difficult to sell, we can help.
You can sell your house without using an agent, ultimately saving a ton of time and money depending on the situation. There are companies such as CT House Buy LLC, Inc. that will buy your CT house using a straight-forward and simple process. With a direct sale, you won't have to worry about commission, repairs, cleaning-up or waiting for a buyer to come along. You will immediately know the amount you are receiving as well as the closing date so you aren't left in limbo, wondering when your sell your house.

The benefits of selling directly are numerous! For many people, it is the simple, stress-free way of selling they have been looking for! We encourage you to run the numbers to find out if it makes sense for you! Direct sales are becoming increasingly popular, however, not all buyers are the same. Make sure you do your homework on both the local market and the buyer you are working with. A direct sale may not offer full price, but for some people, the amount saved on repairs and wasted time more than makes up for the difference in price.

We purchase the property directly from you, so there are no real estate commissions or extra fees coming out of your pocket. We always make cash offers, so you never have to worry about delays resulting from a buyer trying to qualify for a mortgage and wasting your valuable time. What this means for you? It means, no more cleaning, further repairs & upgrades, removal of unwanted personal property, or more showings, giving you relief from monthly expenses related to the property immediately.

How To Sell Your Home Quick

How to Sell a House That Needs Work
Many people hang on to a house that needs work because they don't have the time or money to fix it. This inevitably costs more money in the long run, not to mention the stress and hassles that come from a run-down house. There are many people out there who will buy your house for a great price, freeing you from the property and the burden of making repairs. The strategy of selling is a bit different, and with our tips, we can help you
sell your house
quickly and for a great price!
Fix What You Can
There are many things that can be repaired relatively inexpensively while still making a strong impact.


Get Your House in Front of Serious Cash Buyers & Investors
Get the word out about your home and help people to see the potential value.


Play Up What's Good
Even if the house has areas that require major improvements, there is bound to be something about it that is appealing! Maybe it's in a great location or features custom, built-in cabinetry. Focus on the positive and the potential of the property once it has been fixed.


Be Upfront
While you want to play up the good features you also need to be 100% honest about what is wrong with the house. By disclosing everything you know, you can address it head-on as opposed to after the inspection has been done.

Source :-

Home Selling Guide
How to sell your house fast

We are excited to potentially work with you directly and looking forward to working with you now or in the future.